Everyone wants to have a healthy weight. Unfortunately, we can find ourselves living with excess weight which can be very difficult to lose. Whether you worry about your appearance, health, or self-confidence, we can help.
We can offer a medication supported weight-loss programme which is very safe, tailored to your needs and addresses why you may have gained weight in the first place-this makes it easier to maintain your weight loss.
Many believe that losing weight is simply a matter of self-discipline, will power and self- denial.  We now understand that this is completely wrong. Obesity is a chronic condition with many contributing factors far beyond eating less and exercising more!  Other factors include hormones, genetics, neurological factors and your environment. Nature can be unkind because our bodies strongly fight us in our attempts to lose weight which is why we often lose weight only to regain it again-with interest!
Fortunately, you don't have to accept this and we want to help you to maximise your chances of losing weight and keeping it off. 
Our new programme is bespoke and tailored to your specific needs. This includes:
Treatment with injections with a proven track record to maximise your weight-loss. These reduce your appetite and keep you fuller for longer.
What makes us different?
Absolute confidentially in our discreet Harley Street clinic.
Frank discussions to establish if there is a root cause of your excess weight.
Screening for ADHD and lipoedema.
Regular contact with your clinician via face to face, phone, email or Zoom.
Careful analysis of blood results and supplements as required
We only used drugs licenced for weight-loss. We don't offer budget alternatives imported from overseas. We will increase medication options once they have UK licences for weight loss.
With your agreement, we will update your GP or other specialists regarding your care and adapt care accordingly.
We help you to set realistic goals and concentrate on your personal concerns.
We carefully work with you to understand what may be causing your excess weight. This makes weight-loss more effective and you are more likely to keep the weight off for longer.
We check to see if you take any medication or have any health conditions that cause weight-gain
Medication using drugs that are especially licenced for weight loss.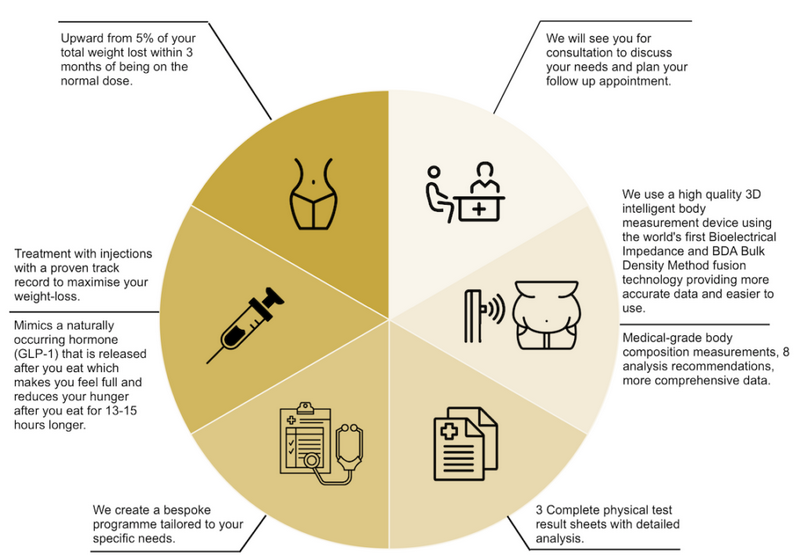 Our most popular medication is an injection which mimics a naturally occurring hormone (GLP-1) that is released after you eat. The natural hormone makes you feel full and reduces your hunger after you eat but the effect only lasts for a few minutes. The injection has the same effect but lasts for 13-15 hours.
As you start to lose the weight, your skin becomes lax which could end up distorting the slim figure that you are trying to achieve. In order to maintain the tone of your body, losing weight should go had in hand with skin tightening. We can help by offering a variety of treatments including:
Treatment cost
Price From
* After consultation the doctor will confirm the cost.
Treatment Summary at a glance

Procedure Time
One hour

Recommended No. of Treatments
One
How does it work?
The world's first BIA (Bioelectrical Impedance) and BDA (Bulk Density Method) fusion technology providing more accurate data and easier to use
Visbody's world's first BIA and BDA fusion technology obtained comprehensive and accurate output for assessing overall health status, from body composition to body shape and posture, from inside to outside
Solving the inaccurate measurement problem caused by only using BIA technology
Providing more accurate data and easier to use, and deliver feasible suggestions supported by reliable data
The authentic 3D model with millimeter-level precision can be generated in only 32 seconds with total of 18 parameters of body circumference and body posture, and the results are easy to understand
Our unique MUF technology–Automatic Mechanical Turntable measurement combined with
depth-sensing 3D camera and the world's leading AI vision and optical 3D reconstruction
technology, to conduct a comprehensive non-invasive detection of the human body
Stand on the Visbody turntable and automatically rotate for one time (about 32 seconds) to
complete the measurement and generate a real 3D model can be checked on your phone.
Along with 9-millimeter level accuracy body circumference measurements and 9 body shape
and posture results
The S30 can track up to 6 user data changes and generate accurate line graphs to visualise changes
Medical-grade body composition measurements, 8 analysis recommendations, more comprehensive data
4-band impedance frequency (5KHz 50KHz 250KHz 500KHz)
The only device in this price range has medical-grade intracellular and extracellular fluids testing ability
BIA and BDA fusion algorithms output 14 accurate body composition parameters
8 control and analysis suggestions are provided based on the World Health Organisation recommended standards, which makes your health plan scientifically
3 Complete physical test result sheets with detailed analysis
The body composition analysis sheet, body shape and posture sheet, and shoulder evaluation sheet are going to give you the most comprehensive body evaluation results
They can be demonstrated in the form of paper reports, PDF reports, or mobile device reports
The S30 can track up to 6 users' data changes and generate accurate line graphs to visualise changes
We offer interest FREE finance plans to patients. Please contact our experienced team to learn more.
The drug is available if you have a BMI of 30 or greater (living with obesity) or 27 (overweight) with other weight related problems e.g high blood pressure
There are a small number of people that can't take this medication but we can offer alternative medications that work in different ways. We offer absolute discretion although we would recommend that you advise your GP or specialists.
You will be able to discuss any concerns or questions with your clinician between visits.
The medication doesn't work for a tiny number of people. We don't want you to use a medication that doesn't work or doesn't suit you. For this reason, we have very close contact with you in the first 3 months. We will discuss other options.
It is quite possible because a drug only works while you take it. Fortunately, we will have worked with you to explore your relationship with food so you may not have the desire to return to your old eating habits. We will always be pleased to see you again if you want to return to us.
The drug won't help you if you have type 1 diabetes.
It is likely to help if you have type 2 diabetes although we would recommend that you discuss this with your diabetic team because this may influence other treatments.
The main medication is by a tiny injection that you administer yourself. It uses a pen-like device so you don't need to worry about needles and syringes. We will show you how to use it. Most people don't feel the needle or just notice a tiny scratch.
We have another option offering tablets.
Absolutely not. We think that you should eat normal food and go to restaurants with your family and friends.
We don't ban anything. If you are smart with your other food choices, there is no reason why can't drink your favourite wine or enjoy a chocolate mousse or sweet treats.
The first few weeks can cause some symptoms of light nausea, constipation or loose stools but nothing nasty.
It depends on how much you want to lose but we expect 4 months onwards.
It generally works for everyone although you may find that you consider a surgical option after discussing your circumstances with our expert clinician. We refer to expert surgeons if you consider surgery. We would continue your aftercare. Some people use the injections to prepare for surgery. Others may restart injections when their weight-loss slows down.
We like to see you for your initial consultation in-person. At the appointment, we discuss your needs and plan your follow up appointment. This may include face to face, via the internet or even via email if you prefer. You can chose what works for you.
Upward from 5% of your total weight lost within 3 months of being on the normal dose.
Toni Russo RGN RM PGDip
Toni qualified as a nurse from Guy's Hospital in 1987 then a midwife from St Mary's Paddington in 1990.  She had always had a weight problem and so she underwent weight loss surgery in 2000.
She underwent bespoke training in Lyon followed by Allergan training in Chicago and NYC. Since then, she has worked for a variety of NHS and private bariatric providers as a nurse specialist.
She has maintained 100% of her weight loss and is keen to support other patients and also to improve the knowledge of the general public and media. She actively works to improve the provision of services to support obesity issues within the UK NHS and is particularly interested in the associations between obesity and ADHD and lipoedema. She is frequently interviewed by LBC and BBC radio. And she presents at conferences.  She has been quoted and produced articles for the public and professional media and has written a chapter for the forthcoming second edition of Obesity, Bariatric and Metabolic Surgery: A Comprehensive Guide (2022 edition).
Dr SW Clinics
An awarding winning clinic