Wrinkle Reducing Injections are one of the most popular anti-ageing cosmetic treatments around the globe.
This treatment uses botulinum toxin, which is a prescription medicine, to treat fine lines and wrinkles caused by dynamic facial expressions such as laughing, smiling or frowning, they can be used to correct and relax:
Forehead lines/frown lines
Glabella lines (lines at the top of the nose)
Crow's feet
Bunny lines around the nose
Neck lines (platysma bands)
Create an eyebrow lift
They work by blocking signals from nerves to muscles. When the muscles are unable to contract, it results in a smoother and wrinkle-free appearance.
Treatment cost
Price From
£420
* After consultation the doctor will confirm the cost.
Treatment Summary at a glance

Procedure Timen
Less tha 30 mins

Recommended No. of Treatments
One repeated 1-2 times per year

Anaesthetic
None required
Side Effect
Possible bruising at injection sites. Risk of eye lid/eyebrow drooping (ptosis).
Results:
Smoother skin, reduced dynamic wrinkle formation.
Duration of results:
Up to 6 months
Full Recovery:
Up to a week for Botox to activate.
Conditions Treated | Barcode Lines | Smoker's Lines | Crow's Feet | Bunny Lines | Frown Lines | Gummy Smiles | Turkey Neck | Teeth Grinding | Wide Jaw
How does it work?
Botulinum toxin injections are used as an anti-wrinkle or wrinkle relaxing treatment. It is a prescription only medicine which means that you must have a face-to-face consultation with a prescriber, like Dr Sherif Wakil to discuss your suitability for treatment.
Botulinum toxin or Botox is used to target dynamic wrinkles. These are lines and wrinkles around the eyes, nose and forehead which are created by facial movement and then remain visible even when you are not moving your face. For example, crow's feet are often made when we smile and these fine lines can still be visible when our face is at rest, the same is true with frowning which can lead to permanent eleven lines in between the eyebrows which make someone looking grumpy or angry all the time.
The treatment works by applying small doses of the product into specific muscles which are responsible for certain movements in the forehead and around or between the eyes, or in the neck to reduce muscle activity in those areas. By relaxing the relevant muscles slightly, this stops the formation of the lines in the area and over time they become softened and less apparent at rest. Treatment is often combined with other aesthetic solutions such as dermal fillers or skincare regimes to further improve skin quality and assist with reducing fine lines and wrinkles.
We offer an interest FREE finance plans to patients please contact our experienced team to learn more
Before
After
Before
After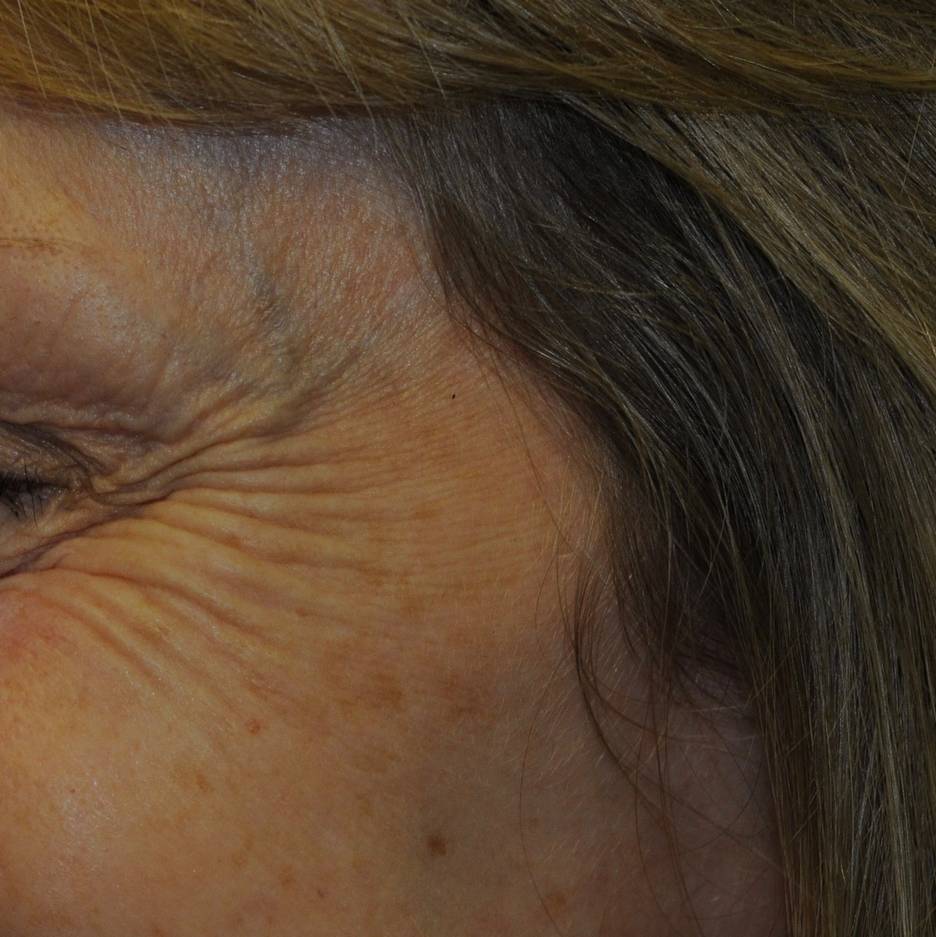 Before
After
Before
After
A series of small injections of a wrinkle relaxing drug (botulinum toxin type A) are placed into specific muscles in or around the area being treated to stop dynamic lines caused by facial expressions from forming. It takes approximately a week for it to activate and relax the interaction between the nerves and the muscles which reduces the severity of muscle movement in the area, thus softening the overlying area of skin, such as the forehead, around the eyes etc.
Wrinkle relaxing injections are one of the most popular treatments with both men and women. They are most suitable for those who are have lines and wrinkles forming on the upper face caused by facial expressions, such as forehead lines, crow's feet, frown lines or bunny lines around the nose.
Botulinum toxin is a prescription only medicine and your suitability for treatment must be diagnosed and prescribed by a medical prescriber, such as a doctor. For this reason, you will need to have a consultation with Dr Sherif Wakil to see if this is the right treatment for you and to discuss all the options available to you for treating your aesthetic concerns. If you are not suitable for botulinum toxin treatment, you will be advised on alternatives.
If you are pregnant or breast feeding you will not be suitable for wrinkle relaxing treatments.
Although the treatment involves a number of small injections it is not painful as we use a very fine needle most commonly used daily by diabetics to deliver insulin.
The treatment is very quick and can be carried out in less than 30 minutes.
Wrinkle relaxing treatment is non-invasive and does not involve any recovery time. Very rarely you can get a small bruise at the injection site, which will usually disappear very quickly. It will take up to a week for the product to activate and you will notice a reduction in certain movements over time. We usually call you in to review how well it has worked after two weeks.
Wrinkle Relaxing Injections are incredibly effective at softening lines and wrinkles caused by facial movement. Skin appears smoother and wrinkle free. Results can last up to six months.
Dr SW Clinics
An awarding winning clinic